ATLANTA (AP) — Andrew Young's first thought when he heard the Voting Rights Act had been signed into law was not celebratory. It was strategic.
"Where are we going to get the money to get the country mobilized to register these voters?" he recalled thinking at that momentous time nearly 60 years ago.

Now 91, Young is one of the last surviving members of Martin Luther King Jr.'s inner circle. The two were together from their first meeting in 1957 at a fraternity symposium at Talladega College until King was assassinated in Memphis, Tennessee, in 1968.
But while King and fellow close adviser Ralph Abernathy were at the U.S. Capitol for the 1965 signing, Young was not.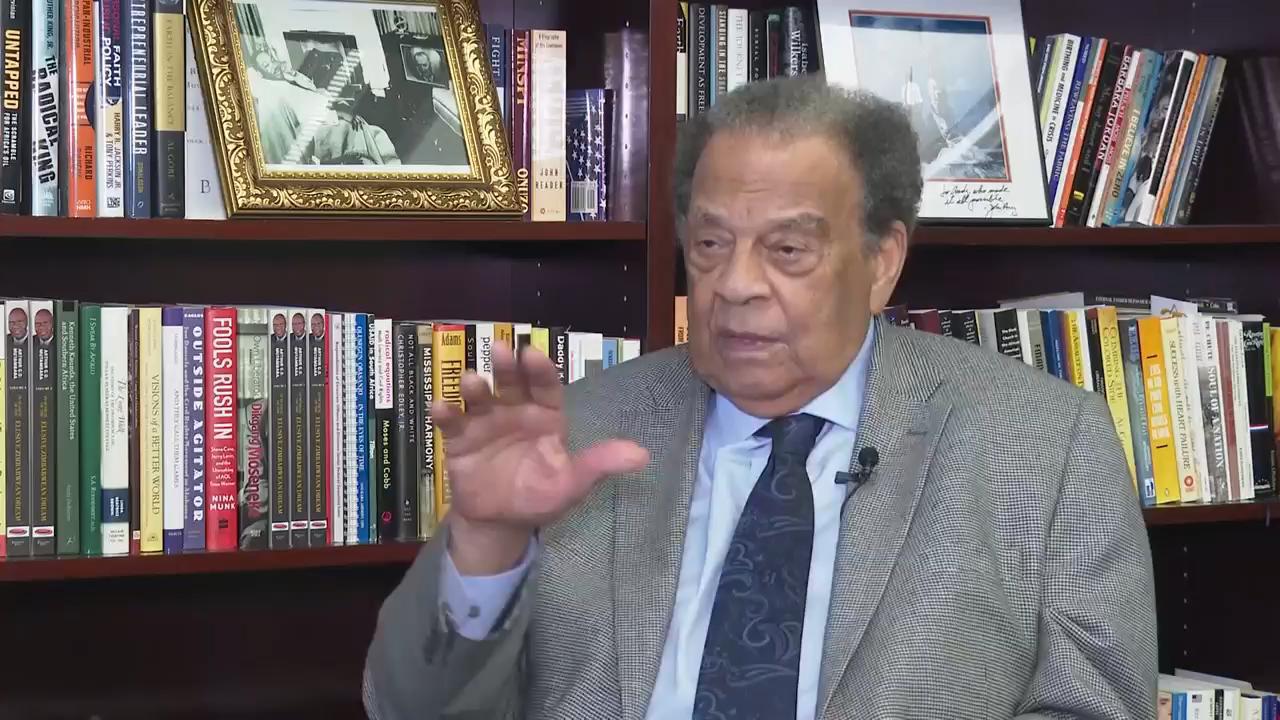 "That wasn't my part of the movement," he said. "I was maybe a field general."
Young would go on to become mayor of Atlanta, a congressman and U.S. ambassador to the United Nations. He was interviewed by The Associated Press as part of a series on the 1965 Voting Rights Act. Ten years ago this month, the court threw out what many consider the heart of that landmark law — the ability of the Justice Department to enforce it in states and counties with a history of voter suppression.
Thursday Flash Update — New York Times:
Supreme Court Rejects Voting Map That Diluted Black Voters' Power
Voting rights advocates had feared the decision would undermine the Voting Rights Act, which instead appeared to emerge unscathed. . . .
June 8, 2023 — Updated 12:21 p.m. ET
The Supreme Court, in a surprise decision, ruled on Thursday that Alabama had diluted the power of Black voters by drawing a congressional voting map with a single district in which they made up a majority.
Chief Justice John G. Roberts Jr. wrote the majority opinion in the 5-to-4 ruling. He was joined by Justice Brett M. Kavanaugh and the court's three liberal members, Justices Sonia Sotomayor, Elena Kagan and Ketanji Brown Jackson.
Voting rights advocates had feared the decision would undermine the Voting Rights Act, which instead appeared to emerge unscathed.
The chief justice wrote that there were legitimate concerns that the law "may impermissibly elevate race in the allocation of political power within the states." He added: "Our opinion today does not diminish or disregard these concerns. It simply holds that a faithful application of our precedents and a fair reading of the record before us do not bear them out here."
The case was part of a pitched battle over redistricting playing out across the country. Civil rights leaders say the redistricting process often disadvantages growing minority communities. Republican state officials say the Constitution allows only a limited role for the consideration of race in drawing voting districts.
The case started after Alabama's Legislature, which is controlled by Republicans, redrew the congressional map to take account of the 2020 census.
The state has seven congressional districts, and its voting-age population is about 27 percent Black. The new map maintained a single district in which Black voters made up a majority.
That district [includes Selma, the site of historic voting rights struggles, and] has long elected a Democrat, while the state's other six districts are represented by Republicans. . . .
After Black voters and advocacy groups challenged the map under the Voting Rights Act, the landmark civil rights law enacted in 1965 to protect minority voters, a unanimous three-judge panel of the Federal District Court in Birmingham ruled that the Legislature should have fashioned a second district "in which Black voters either comprise a voting-age majority or something quite close to it."
Additional update from the Washington Post:
[Today's decision "drew a sharp rebuke from Justice Clarence Thomas, who wrote that the question is whether the Voting Rights Act "requires the State of Alabama to intentionally redraw its longstanding congressional districts so that black voters can control a number of seats roughly proportional to the black share of the State's population."
The law, he said, "demands no such thing, and, if it did, the Constitution would not permit it."
Thomas was joined in part by Justices Samuel A. Alito Jr., Neil M. Gorsuch and Amy Coney Barrett.]
Original New York Times article continues: The journey to the Voting Rights Act was an arduous one, Young recalled. In December 1964, Young and King headed to Washington to meet with President Lyndon Johnson after King had just accepted the Nobel Peace Prize. Young recalled they had to wait several hours as the president met with his advisers about what Young believes was the growing conflict in Vietnam.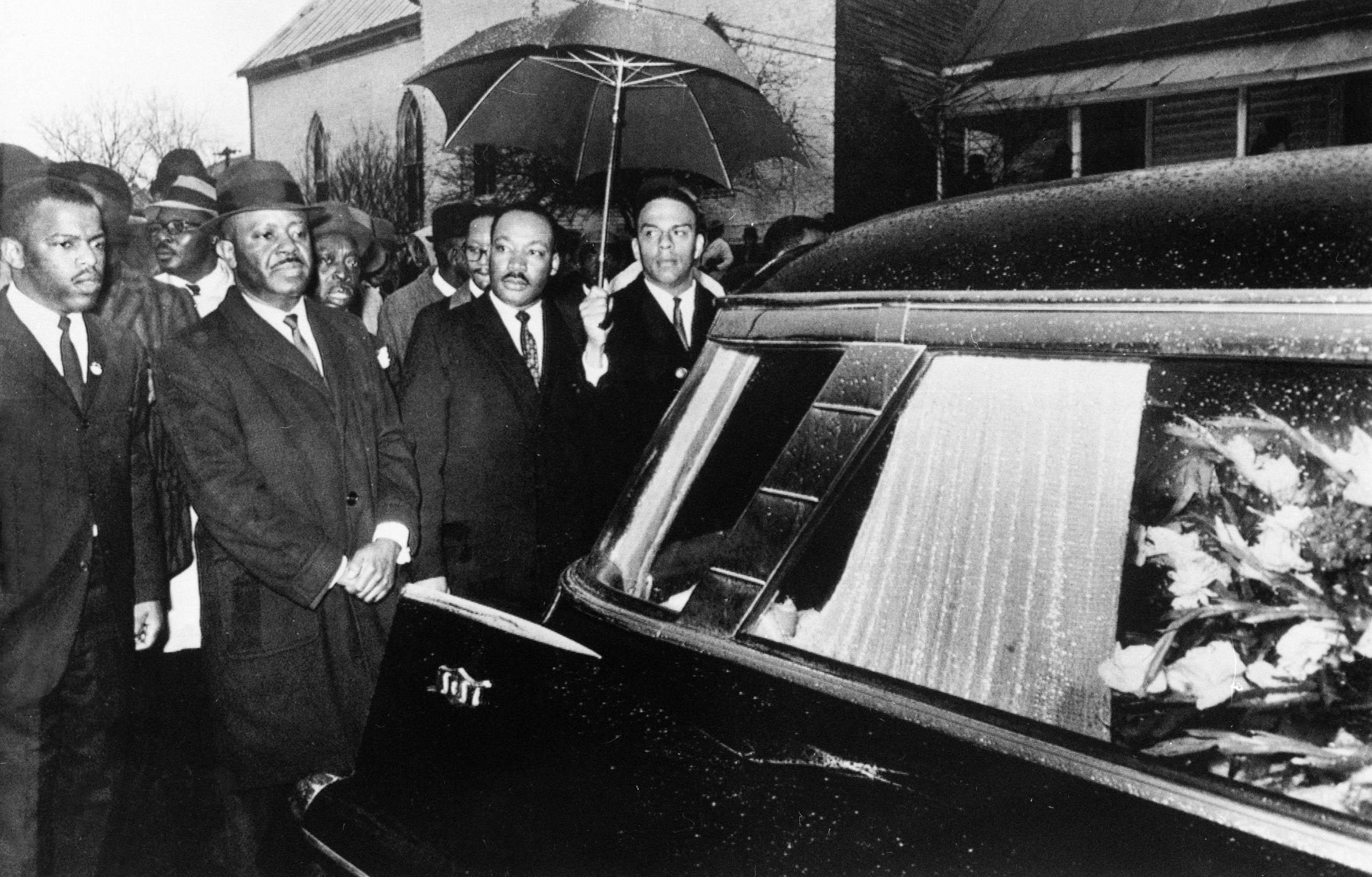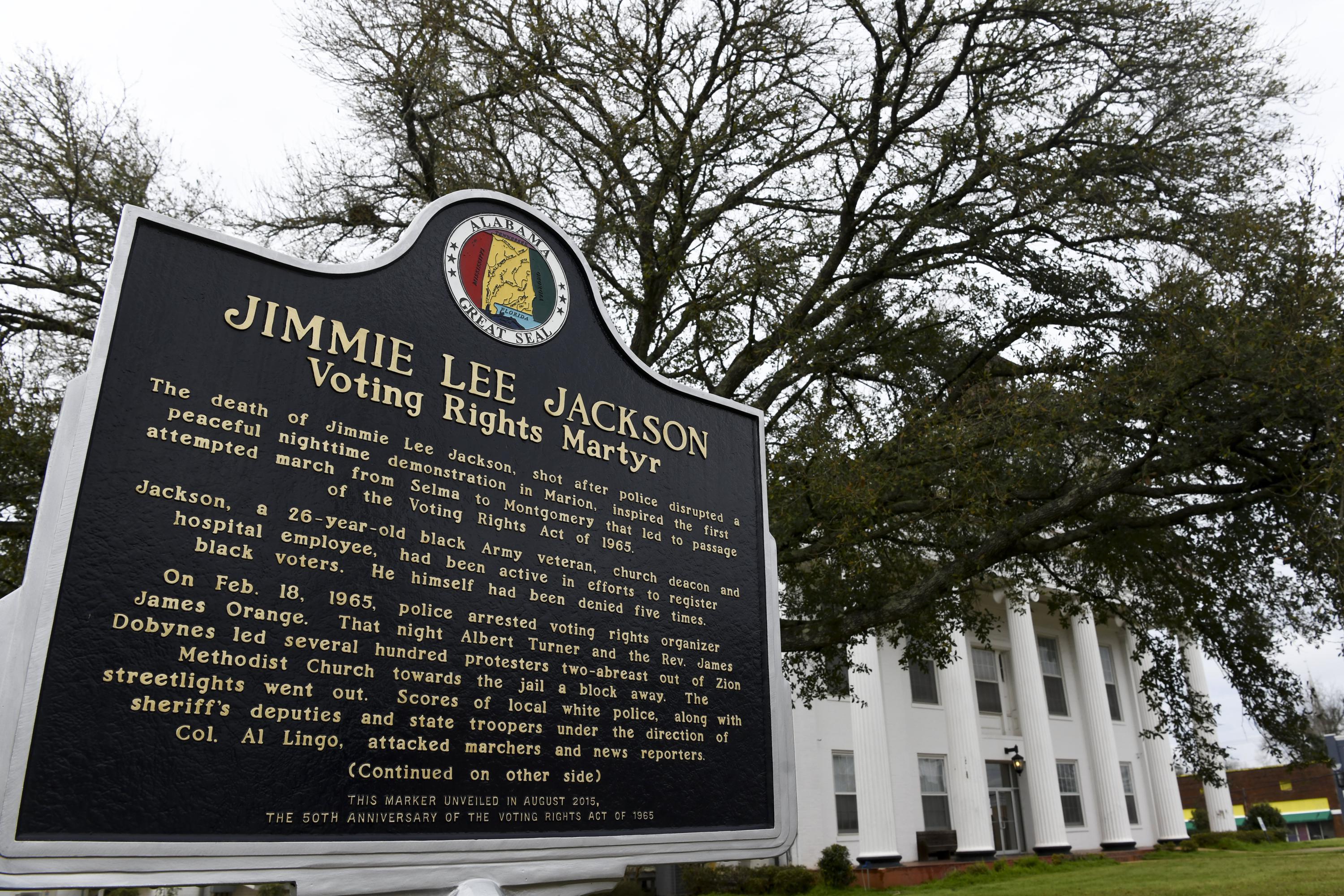 When they did get in, they were met by a president who appeared weary and stressed.
"He told Dr. King, 'I know you need voting rights. I wish I could do it, but I just don't have the power,'" Young recalled. "Every argument Dr. King gave, President Johnson's answer was, 'I agree with you, but I just don't have the power.'"
Outside the White House, Young told King the president was right and suggested this was a time to take a break from the movement he'd been leading for years. He had been jailed multiple times, stabbed, almost fatally, and his home bombed.
King kept pushing and Young responded, "You're broke, you're poor, you don't have a gun or a bank account, nothing that sounds like power in this country.' He ignored me and kept saying, 'We've got to get the president some power.'"
Two days later, they received a call from Amelia Boynton Robinson, an activist in Alabama who suggested the men start a voter registration push in Selma.
That effort began in January and expanded into surrounding areas, including Perry County and Marion, the county seat. The Southern Christian Leadership Conference sent James Orange, who worked with local activists and helped organize sit–downs and student boycotts.
Orange was arrested in mid–February, ostensibly because one protest included students skipping school. Rumors circulated that he was going to be lynched.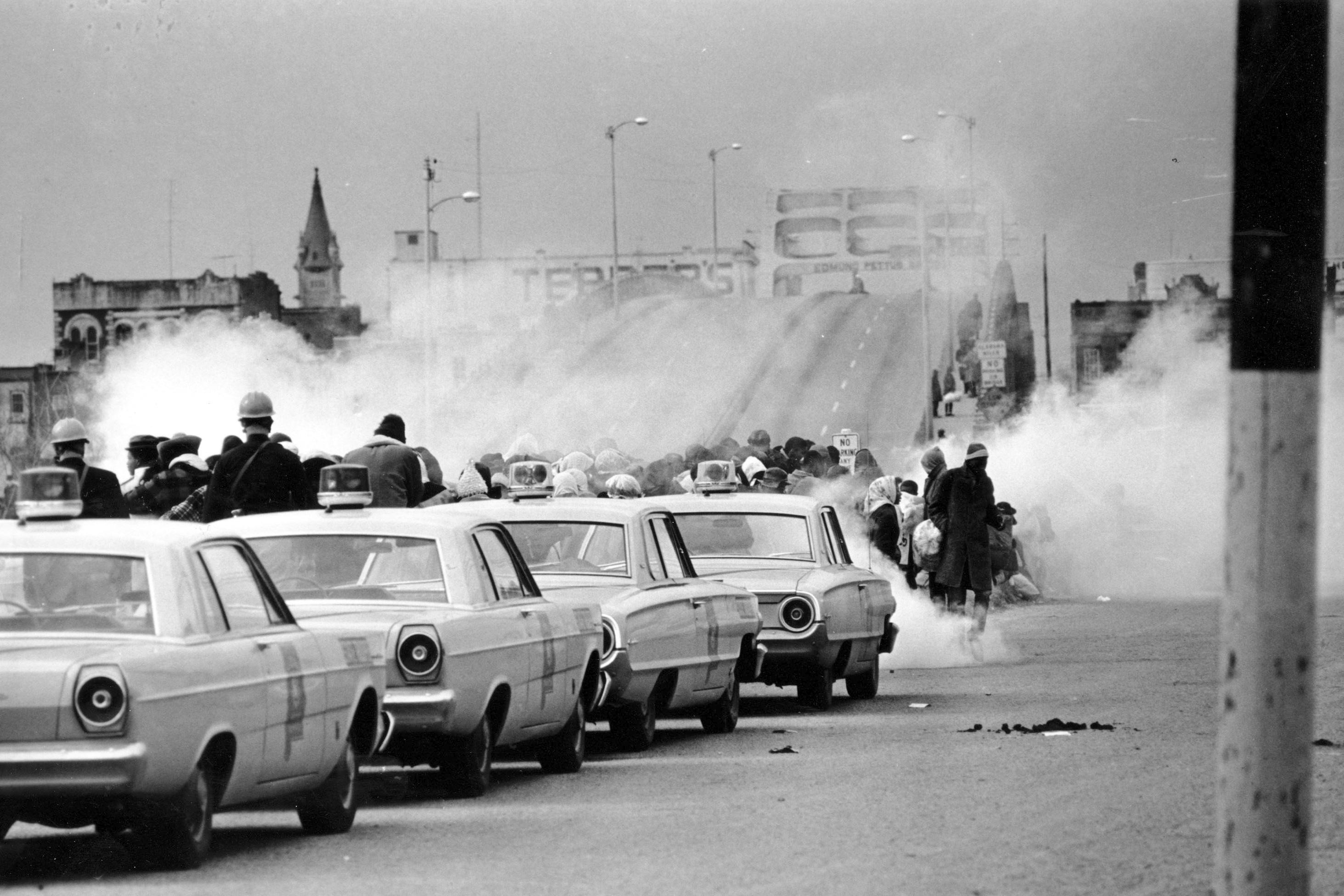 Police violently disrupted the protest of his arrest, and a Black military veteran and church deacon, Jimmie Lee Jackson, was shot by a state trooper while trying to protect his grandfather and died days later.
Young, King, Abernathy and other civil rights leaders came to the funeral and planned to stage a march from Selma to the state capital, Montgomery. March 7 was chosen as the date, but the planners hadn't taken into account that it happened to be the first Sunday of the month, a sacrosanct day for Black pastors, Young said.
King was preaching that day at his church, Ebenezer Baptist in Atlanta, but Young was among several hundred people gathered for the march. In a phone call to King, he described what he saw as the demonstrators approached the Edmund Pettus Bridge in Selma. King told him to let the people march.
"I had been on the other side of the bridge, and I saw the police and there were maybe 100 of them, and there were police on horseback," Young said. "And I made the calculation that they were just going to turn us back or they would round up a few of the leaders and send everybody else back."
That's not how it played out.
"It wasn't 10 seconds between the time they told them to turn around and when they started throwing tear gas bombs and charging with billy clubs," he said. "It was a panic, and they were beating up people."
The images galvanized people across the country, and within days Johnson called the nation to action during a speech in which he echoed the phrase that symbolized the movement: "We shall overcome." By the end of that summer, Johnson would be signing the Voting Rights Act.
Young said voting rights have always been the vehicle for equality, and notes that progress has never happened in a straight line.
"Every time there seems to be a rise in confidence and equality and things seem to be going better, there's some backlash that comes and sets it back," he said.
___
The Associated Press coverage of race and voting receives support from the Jonathan Logan Family Foundation. See more about AP's democracy initiative here. The AP is solely responsible for all content.

A Personal Addendum — Earlier on "Bloody Sunday":
An excerpt adapted from Eating Dr. King's Dinner,a memoir of my year in Selma, as a junior member if Dr. King's staff.
At Brown Chapel, we smelled trouble too, and it made our preparations for the march somewhat half-hearted. We didn't do much in the way of serious logistical planning for a fifty-mile trek by several hundred people. That's because few of us figured the march would get very far; we all expected to be arrested before we got out of town.
Actually, we hoped to get arrested before we went past the bridge; better the county jail or Camp Selma, where the walls kept terrorists out, than the ominous grey terrain of those swamps, where dozens or hundreds could easily be hidden.
These apprehensions were reinforced on Saturday, March 6, when a small group of progressive white Alabamians, gathered to show support for the movement, was attacked by other whites near the courthouse, and Baker's police narrowly averted a full-scale riot. We didn't know whether to be relieved or more afraid when we heard, later that same day, that Wallace had issued a proclamation forbidding the Montgomery march, as "not conducive" to traffic and commerce in the state.
Actually, the prospects for violence were increasing hourly. Wallace had, in his way, done his best: he had ordered his troopers to disperse the march peacefully, once it crossed the Edmund Pettus Bridge over the Alabama River. Jim Clark had been lured out of town for a weekend talk show appearance in Washington. With Wilson Baker also taking a few days off, Selma Mayor Joe Smitherman had pledged full cooperation with the governor's plan.
But Smitherman was a rookie. Baker, the veteran, sensed that real trouble was coming, and on his return he told the mayor he did not want his men taking part in the bridge action. Baker proposed instead that he arrest the entire march right after it left the church, thus keeping them out of the troopers' clutches entirely. When Smitherman insisted that he had confidence in the governor's pledge of peaceful dispersal, Baker threatened to resign on the spot, and only relented when Smitherman agreed to sharply limit the police presence at the bridge.
We didn't know about this confrontation then, or at least I didn't. But as Sunday morning came and we gathered at Brown Chapel, the prospect of violence hung in the air like a fog. Homemade bedrolls were piled near the platform at Brown Chapel, and we listened to instructions on how to deal with tear gas, which we heard had been issued to the troopers.
Our expectation was that the march would proceed in two or three waves, one following another as the marchers were arrested. As the final round of singing and pep talks were being made in the church, the staff gathered in the parsonage next door, to get our own marching orders.
There were too many of us for the living room furniture, so most, including me, sat cross-legged on the floor. Dr. King had said he would lead the march, but he wasn't there. This was another sign of the prospect of trouble: After the episode of the night march, I knew Dr. King was not afraid for himself; but I also knew that his inner circle was afraid for him, and protected him as best they could. They had, I figured, somehow kept him away.
In his absence, Andrew Young gave out our instructions. He went around the circle, assigning this one to the first wave, that one to the second. Finally he got to me.
I looked up at him, trying, I am sure without success, to mask my fear. The sensation was not so different from what had come over me afew weeks earlier, when I sat in the field house with other arrestees, staring at Jim Clark's boots. Yet the sense of being a footsoldier in an army was once again clear: fear before battle was not shameful, and despite it I would carry out my orders then, as I had on those other marches.
But Andy was merciful. Gazing down at me, he murmured something about my needing to deal with the press, and assigned me to the second wave. As he moved on I tried, probably with no more success, to disguise my relief.
Andy, Bevel and Hosea Williams flipped coins to see who would lead the first wave, and Hosea lost.
In a few moments we were back in the church, where Hosea, looking very solemn indeed, led the crowd in a round of "God Will Take Care of You." Then, bedrolls hoisted, and with John Lewis of SNCC beside Hosea, the marchers moved out of the church, and down Sylvan Street, toward the bridge, and confrontation . . .