NBC NEWS EXCLUSIVE — CAPITOL RIOT
Before Jan. 6, the FBI predicted extremists would be 'very willing to take action' over a 2020 election dispute.
An FBI "red cell" report predicted that law enforcement action and a "lack of coordination" between groups would prevent widespread violence in response to a disputed election.

WASHINGTON — One week before Election Day 2020 and just over two months before the Jan. 6 attack on the U.S. Capitol, an internal FBI analysis concluded that domestic violent extremists were "very willing to take action" in response to a disputed election but that "law enforcement preemption" and the "disorganization" of extremist groups "likely would hinder widespread violence."
The so-called red cell report — the type of exercise that became widespread after the federal government's Sept. 11 intelligence failures and are meant to challenge conventional wisdom and encourage outside-the-box thinking — was titled "Alternative Analysis: Potential Scenarios for Reactions of Domestic Violent Extremists to a Disputed 2020 US Presidential Election." NBC News obtained a redacted copy of the report through a Freedom of Information Act request.
"In response to a disputed election, [domestic violent extremists] are very willing to take action, but their capabilities to do so remain low, largely due to disorganization and law enforcement pressure," the Oct. 27, 2020, report read, laying out the "most likely" scenario.
The redacted summary of the analysis, which makes no reference to then-President Donald Trump, was finished just a few weeks after Trump told the far-right Proud Boys to "stand back and stand by" at a presidential debate with Joe Biden. Several members of the Proud Boys have since been convicted of seditious conspiracy for their role in organizing and urging on the Jan. 6 Capitol attack, with former Proud Boys chairman Enrique Tarrio receiving the longest sentence so far, 22 years in federal prison, this month.
The House Jan. 6 committee and Senate Democrats have been critical of the FBI's lack of foresight and planning ahead of the Capitol attack. Trump's infamous "will be wild" tweet on Dec. 19, 2020, inviting his supporters to Washington, both the committee and federal prosecutors say, was the call to action that caused disorganized extremists to zero in on a date and time: Jan. 6, in the nation's capital.
The day Trump sent that tweet, as NBC News reported, a confidential human source told the FBI that the far right saw the tweet as a "call to arms" and that there was a "big" threat of violence on Jan. 6.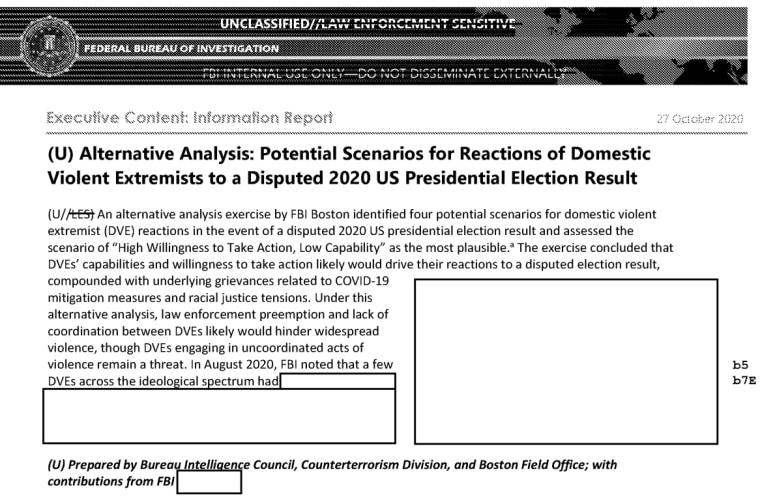 The 2020 summary — prepared by the FBI's Intelligence Council, Counterterrorism Division, and Boston Field Office, with contributions from another unnamed FBI entity — found that a "less likely" scenario identified in the report was that domestic violent extremists would be "very willing to take action and very capable of carrying out a wide array of violent activity."
Another "less likely" scenario was that domestic violent extremist groups would be "very capable, but they have low willingness to carry out near-term attacks in response to election dispute." The "least likely" scenario was that domestic violent extremist groups would "have low willingness to take action in response to a disputed election result, and those who are interested lack that capacity to carry out anything beyond" a simple attack.
"The exercise concluded that [domestic violent extremists'] capabilities and willingness to take action likely would drive their reactions to a disputed election result, compounded with underlying grievances related to COVID-19 mitigation measures and racial justice tensions," a summary read. "Under this alternative analysis, law enforcement preemption and lack of coordination between [domestic violent extremists] likely would hinder widespread violence, though [domestic violent extremists'] engaging in uncoordinated acts of violence remain a threat."
A critique of the FBI's Oct. 27, 2020, "red cell" report was prepared by the Jan. 6 committee but never published. It found that the FBI product never considered that a broader right-wing movement could come together and that a mob itself could be a threat. The FBI analysis was anchored by "lone offender bias," and the FBI "missed the forest for the  trees." An NBC News reporter viewed the congressional analysis in the course of reporting the coming book "Sedition Hunters: How January 6th Broke the Justice System," which will be published by Public Affairs on Oct. 17. The New York Times first reported on the existence of the "red cell" report and the Jan. 6 committee's unpublished critique.
trees."
The Jan. 6 committee largely skimmed over the law enforcement failures ahead of the Capitol attack in its final report, instead putting the focus squarely on Trump. But the report did say the threat to the Capitol was "foreseeable," and the top investigator on the committee later said the intelligence available "was pretty specific, and it was enough, in our view, for law enforcement to have done a better job."
An investigation by the Government Accountability Office found that agencies "either didn't follow their established policies or procedures for reviewing the threats, or didn't share critical information with partners responsible for planning security measures."
A report from Senate Homeland Security Committee Democrats concluded that federal law enforcement agencies "failed" at "a fundamental level" to "fulfill their mission and connect the public and nonpublic information they received." The Justice Department inspector general is conducting an investigation that began in January 2021.
"While we are constantly evaluating our response to critical incidents — especially after an attack of historic proportion — the FBI took the threat of violence during the events of January 6 seriously and prepared accordingly. The FBI will continue to pursue threats or acts of violence without fear or favor, regardless of the underlying motivation or socio-political goal," the FBI said in a statement.
"Since January 6, 2021, the FBI has continuously reviewed our processes, procedures, and policies in order to assess lessons learned and make improvements in communication and in the collection, analysis, and sharing of information."
At the time the red cell report was prepared, Trump had telegraphed his plans to dispute the 2020 election results, just as he had in 2016. He'd even summoned Americans to Washington to overturn an election before, in 2012, after Mitt Romney's election loss, when Trump called for a "revolution" and for election deniers to descend on the nation's capital.
"We can't let this happen. We should march on Washington and stop this travesty," Trump tweeted in 2012. "We should have a revolution in this country," he wrote.
Trump added that Republicans needed to "fight like hell," the same phrase he used a little over eight years later, in his Jan. 6, 2021, speech.