#1- Gwynne Dyer-Armenia: Not a Genocide
It is a tragedy, but it is not a genocide. In a single week, almost all of the 120,000 Armenians who lived in the enclave in western Azerbaijan called Nagorno-Karabakh have fled across the border into Armenia. Most say they don't expect ever to go home again.
By Gwynne Dyer — October 2, 2023
Yet there's something odd about the scene at the border-crossing point. They arrive in their own cars, piled high with their belongings, and claim that they have been ethnically cleansed, but they don't tell tales of horror and there's nobody chasing them.
Indeed, the Azerbaijani government officially says that they are welcome to remain, and it has allowed a UN fact-finding mission in to see what has been happening in the enclave. There have been no credible reports of harm coming to Armenian residents of the breakaway republic since the 24-hour war ended in an Armenian defeat on 20 September.
The Armenian-only 'Republic of Nagorno-Karabakh' will officially cease to exist at the end of the year, but the Azerbaijani regime stresses that the residents continue to have the legal status of Azerbaijani citizens.
Thirty years of hot and cold war is bound to have made the 'refugees' nervous, but isn't this mass exodus a bit premature?
Not if you listen to Nikol Pashinyan, the prime minister of Armenia (the actual country, not the enclave within Azerbaijan that has now been reclaimed by that country). "This is a direct act of ethnic cleansing, something we had long been warning the international community about," said Pashinyan.
Others go even further, using the word 'genocide'. Luis Moreno Ocampo, for one: the former prosecutor at the International Criminal Court has just written a piece in the Washington Post condemning "the Armenian genocide of 2023." His use of that phrase is intended to remind us of the Armenian Genocide of 1915, which is a real historical fact.
If I were Nikol Pashinyan, trying to make the best of a really bad hand, that's the resonance I'd be aiming for too. In 1915, during the First World War, the Ottoman empire deported up to two million Armenians from eastern Turkey and marched them over the mountains to Syria. Around half of them were killed or just died of exhaustion and exposure.
The circumstances now are very different – for one thing, there's no killing going on – but there are resonances. Azerbaijanis are closely related to the Turks: if you speak Turkish, you can understand Azerbaijani. Both countries are Muslim, and the Turks sell arms to Azerbaijan.
It's not a lot to work with, but Pashinyan has to go with what he's got, so he says 'ethnic cleansing' and leaves it to 'useful idiots' elsewhere (like Moreno Campo) to say 'genocide'. But saying it doesn't make it true.
Something closer to the truth was voiced by David Babayan, an adviser to Samvel Shahramanyan, the erstwhile president of Nagorno-Karabakh. "Our people do not want to live as part of Azerbaijan. Ninety-nine point nine percent prefer to leave our historic lands." And so it has come to pass.
For it to have ended any differently, history would have had to change starting when the old Soviet Union began to collapse in 1989. Both Armenia and Azerbaijan were Soviet 'republics', and each new country contained a significant minority of the other group. When Moscow's rule weakened local clashes began, and grew into a full-scale ethnic war.
It was about 170 years since either people had been free from Russian rule, but the borders that emerged in 1994 were essentially the ones that were drawn by Joseph Stalin in the 1920s. This left many Armenians and Azerbaijanis in the 'wrong' place, a problem that was resolved mainly by mutual ethnic cleansing.
350,000 Armenians had fled Azerbaijan by the ceasefire of 1994, and 186,000 Azerbaijanis had fled from Armenia. In one area, however, the Armenians triumphed: in the Armenian-majority enclave of Nagorno-Karabakh in western Azerbaijan, not far from the Armenian border.
Not only were all 48,000 Azerbaijanis living in Nagorno-Karabakh driven out. So were at least half a million Azerbaijanis from all the areas around Nagorno-Karabakh, creating a broad unpopulated buffer zone and including a direct land link with Armenia.
That exclusively Armenian enclave was never recognised by any sovereign state, not even Armenia, although the latter helped it a lot with arms and money in the early days. It was decisively defeated by the Azerbaijan army in 2020, and only saved by a Russian-mediated ceasefire.
The Russians are too busy in Ukraine now, so last month the Azerbaijanis collected their winnings. And all the Armenians of Nagorno-Karabakh are leaving without even waiting to find out if the victors will keep their promise to treat them like any other Azerbaijani citizens. It's not a genocide, but you could call it ethnic auto-cleansing.
---
Gwynne Dyer is an independent journalist whose articles are published in 45 countries.
#2- Nagorno-Karabakh: Fuel depot blast kills 20 as refugee count rises
An explosion at a fuel depot in Nagorno-Karabakh has killed 20 people and injured hundreds more, local ethnic-Armenian authorities say.
Nearly 300 people were admitted to hospitals, with dozens of them reported to be in a critical condition.
It comes as the Armenian government said more than 28,000 refugees had crossed into the country since local forces surrendered to Azerbaijan.
The disputed region is home to some 120,000 ethnic Armenians.
It is not yet clear what caused the explosion on Monday evening near the main city of Khankendi, known as Stepanakert by Armenians.
Petrol stations have been overwhelmed as thousands try to leave the region, which was already suffering from a fuel shortage following a months-long blockade.
The only road connecting Armenia to the enclave remains backed up with hundreds of cars and buses, filled with ethnic Armenians trying to reach the town of Goris across the border.
The winding mountain road from Goris to Armenia's capital, Yerevan, has also been heavy with traffic from well before dawn.
A BBC team saw families crammed into cars, boots overflowing and roof-racks piled high with belongings. Convinced they are leaving their homes for good, people are squeezing as much of their lives as possible into their vehicles.
Inside Goris, a small town that is the same dusty brown as the jagged mountains that surround it, the narrow streets are filled with more cars and more families. One has arrived in a car held together with little more than sticking tape, its side badly dented and dotted with shrapnel holes, and windows smashed.
The owner tells the BBC it was hit by mortar fire when Azerbaijan launched a lightning assault to take control of the region last week. "But it still got us here," he smiles, surrounded by small children.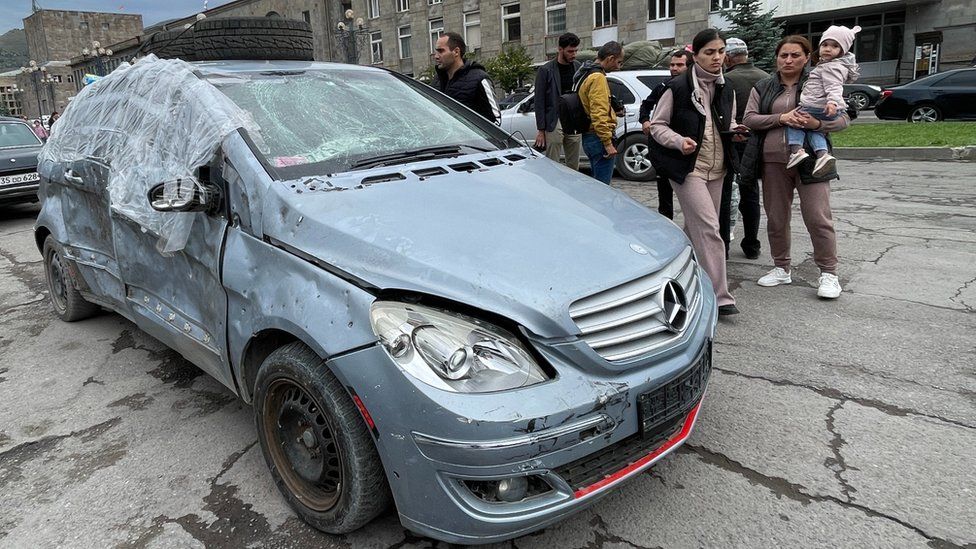 On the main town square, people mill around unsure what to do next. Volunteers hand out some basic food and blankets.
Evacuees are registered and there is the occasional bus to move people on to another town or village. But few seem to have a plan, beyond getting this far.
Malina left her husband's grave behind in their village. He died soon after the six-week war that broke out in 2020, the most recent violence before this month.
She says his nerves gave out. She keeps an eye on four grandchildren playing nearby as we speak. They think this trip is temporary, that they will eventually go home like last time, and Malina does not want to upset them yet with the truth.
For two days last week, they all huddled in their cellar as their village was under fire. After the Karabakh forces surrendered, Malina says the local authorities told everyone to leave for Armenia, for safety. Their village in the Martakert region of Nagorno-Karabakh is now empty.
Malina says her family left because – whatever the assurances – they would not feel safe under Azerbaijani rule.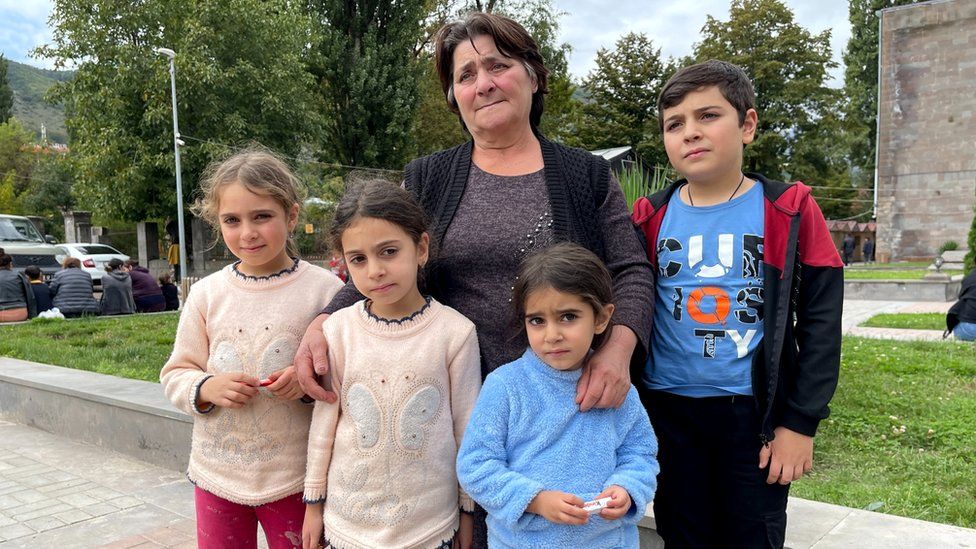 Despite Azerbaijan's public reassurances, there are fears about the residents of Nagorno-Karabakh, with only one aid delivery of 70 tonnes of food having been allowed through since separatists accepted a ceasefire and agreed to disarm.
Azerbaijan announced that another aid convoy, with 40 tonnes of flour and badly-needed hygiene products, was on its way to the enclave.
Ethnic-Armenian leaders say thousands are without food or shelter and sleeping in basements, school buildings or outside.
In a statement on Tuesday, local officials said doctors were working in "difficult and cramped conditions" to save the lives of those injured in the fuel depot explosion, adding that hospitals were treating 290 patients with various degrees of burns.
They said 13 unidentified bodies were found at the scene of the explosion and seven more died in hospital.
Human Rights Ombudsman Gegham Stepanyan wrote on social media: "The health condition of the majority is severe or extremely severe. The medical capacities of Nagorno-Karabakh are not enough."
The Armenian health ministry said it was sending helicopters to evacuate patients from the region's strained hospitals. Azerbaijan also said it had sent medical supplies.
"That's happening just now, and that is [a] very unfortunate fact, because we were trying to urge international community on that," Nikol Pashinyan told reporters.
But Azerbaijan has said it wants to re-integrate the ethnic Armenians as "equal citizens".
The head of the US Agency for International Development, Samantha Power, called on Azerbaijan "to maintain the ceasefire and take concrete steps to protect the rights of civilians in Nagorno-Karabakh".
She said the international community should to be given access to the region and announced $11.5m (£9.5m) of US aid to assist those fleeing.
Envoys from Armenia and Azerbaijan met in Brussels for European Union-backed talks.
It was the first time diplomatic talks have been held between the two countries since Azerbaijan seized the enclave last week.
Azerbaijan has also started separate negotiations with Karabakh's ethnic-Armenian authorities about the region's future.
The enclave has been supported by Armenia – but also by its ally, Russia, which has had a peacekeeping mission there for the past three years.
Five Russian peacekeepers were killed – alongside at least 200 ethnic Armenians and dozens of Azerbaijani soldiers – as Azerbaijan's army swept in last week.
On Sunday, Azerbaijan's defence ministry said it had confiscated more military equipment, including a large number of rockets, artillery shells, mines and ammunition.